The validity, interpretation, construction and performance of the Store Policies shall be in accordance with the English language.
1. Customer Terms of Service Acknowledgment
Please read these Terms of Service and eYs3D Terms of Use carefully before using this site. By accessing and using this Web Site and Materials, you ("Customer") acknowledge and agree to abide by those Terms of Service and the eYs3D Terms of Use. In addition, Customer agrees to the conditions of sale on this eYs3D website by the placement of a request to purchase a product, or the subscription for information.
The description and specification of products on this web site is only approximate and we reserve the right to make changes which do not materially affect the quality or performance of those products.
​
We may correct any error appearing on this web site or withdraw any product from sale without incurring liability. Price and availability is also subject to change without notice.
You may order products from the Web Site by submitting a completed order form through the Buy-Now procedure. We will confirm acceptance of your order by e-mail to the address you have given and the sending of this e-mail (whether or not it is received) makes the contract between us.
​
All offers on this web site are without the obligation as concerns price (until an order has been placed), delivery times and possibility of delivery.
​
As set out in the Store Policies' section 9, all export orders duties and documentation fees may apply, these will be charged additionally, and customs clearance will be the customer's responsibility.
We will arrange for the delivery of the products you order by the method and to the address which you specify in the Buy-Now procedure. The time for delivery will not be essential to the contract between us.
​
Shipping terms are delivered at place (DAP) — title and risk of loss pass to the Customer once eYs3D delivers the product to the carrier. eYs3D will arrange payment for shipping with the carrier, but such costs are the responsibility of the Customer, and will be charged to the Customer's credit card prior to shipment from eYs3D. Delivery times are estimates only and eYs3D shall not be liable for delays. eYs3D will accept orders from and ship orders to a select list of countries.
​
If you do not take delivery of the products or if you do not supply adequate delivery instructions, we may cancel your order and retain the products. In this case, we will refund you the price of the products, but you will still be liable to pay any delivery charges.
​
If there is an error or any other delivery problem in respect of the products ordered, you must notify us in writing within 14 days after the delivery date. We will not be liable for any loss or damage if you fail to do this.
4.1

eYs3D IC & Module USA Export Control Classification Number (ECCN) & Harmonized Tariff Schedule (HTS):
4.2 European Union Common Military List (CML) & Product Classification System (PCS):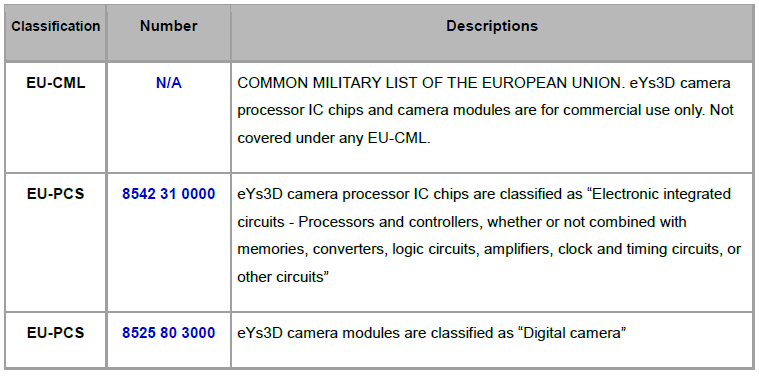 5. Returns and Cancellations
Within 30 days of shipment from our warehouse, eYs3D will accept returns of any eYs3D item ordered on this website that meets the following conditions:
​
a) Only unopened hardware products are allowed (includes Processors, Mother boards, and Solid State Drives). eYs3D will not accept returns on hardware items that have been opened or used;

b) The item must be in "like new" condition;

c) The item must be returned in its original box and include all original packing material; accessories, software, manuals and/or other documents;

d) Only unopened software returns are allowed—eYs3D will not accept returns on software items that have been opened, nor returns of software that was electronically downloaded;

e) All sales are final for CPUs, Desktop boards processor parts, networking parts, and server processor parts.
A Return Material Authorization (RMA) number is required on any and all product returns. Returns cannot be accepted without an RMA number. Customer agrees to contact eYs3D and request the RMA number before returning any product to eYs3D, and to prominently display the RMA number on the outside of any box or carton being returned.
RMA numbers are valid for thirty (30) days once issued.
​
Please return all items in the original shipping box. The RMA # must be clearly marked on the outside of the box. Return shipments arriving without an RMA # on the box will be returned to you.
If you return the products in accordance with this section or cancel this contract, we will reimburse to you all payments received from you, including the costs of delivery (except for the supplementary costs arising if you chose a type of delivery other than the least expensive type of standard delivery offered by us).
We may make a deduction from the reimbursement for loss in value of any goods supplied, if the loss is the result of unnecessary handling by you.
​
If you request a credit for product being returned, we will be able to indirectly reference your credit card via the order number. You must give your credit card number and billing address with each order, since none of this information is retained by eYs3D Microelectronics, Co.
​
We will make the reimbursement without undue delay, and not later than—
​
(a) 14 working days after the day we received back from you any goods supplied, or

(b) (if earlier) 14 working days after the day you provide evidence that you have returned the goods, or

(c) if there were no goods supplied, 14 working days after the day on which we are informed about your decision to cancel this contract.
​
We will make the reimbursement using the same means of payment as you used for the initial transaction, unless you have expressly agreed otherwise; in any event, you will not incur any fees as a result of the reimbursement.
We are not liable for any damages whatsoever, in any form whatsoever, whether they are direct or indirect, which could be the result of the use, or the unsuitability, respectively, of what we have delivered. This does not affect any provisions of obligatory law which have been laid down in statutory provisions.
Prices listed on this web site are in NTD dollars with an approximately exchange to US dollar and are subject to change without notice. Prices do not include charges for shipping and sales and use tax.
​
NOTE: eYs3D does not guarantee any prices listed on other web sites or price engines.
The eYs3D and eCapture web site accepts payment via a third-party service. They were chosen because they work especially well for customers using payment cards that were issued from outside Taiwan. We do not accept cash, checks, money orders or purchase orders.
​
By submitting your order for processing, you authorize our 3rd party payment processor to charge your order (including taxes, shipping and any amounts described on the site before order submission) to your payment card. If your card cannot be verified, is invalid, or is not otherwise acceptable, your order may be suspended or cancelled automatically.
9. Customer is responsible for duties and taxes
Your order may be subject to import duties and taxes, which are levied once a shipment reaches your country, and may also be subject to withholding tax obligations. Any additional charges for customs clearance are not reflected in our prices, and must be paid directly by you. eYs3D has no control over these charges and cannot predict what they may be. Customs policies vary widely from country to country; you should contact your local customs office for further information.
​
Refusing the package may result in customs and brokerage fees being assessed against eYs3D. These fees will be deducted from your refund without prior notice.
​
Additionally, when ordering from eCapture website, you are considered the importer of record and must comply with all laws and regulations of the country in which you are receiving the goods. If you are subject to withholding tax obligations, eYs3D expects you to comply and provide eYs3D the information necessary to secure the appropriate credit to your account.
All sales shall be deemed to be made in Taiwan, and subject to its laws, regardless of the location of the Customer.
11. Manufacturer License Agreements
Customer agrees to abide by all license provisions or end user agreements imposed by the manufacturer or publisher of any software we may sell to you. Such licenses may be in shrink-wrap or click-to-accept form.
eYs3D shall not be responsible for damages or delays resulting from any force majeure events, including but not limited to labor dispute, supply shortage, fire, earthquake, floods, acts of God, and other actions beyond eYs3D's reasonable control, both governmental and otherwise, including but not limited to war, riot, seizure and embargo. The time for performance of the obligations by eYs3D is extended for a duration equal to the force majeure event
eYs3D may revise these terms and conditions at any time, for any or no reason and without notice, by updating this web site. By placement of an order, the Customer agrees if any of these terms and conditions are found unlawful or unenforceable, the remainder of these terms will continue in full force and effect.
We are committed to protecting your data and ensuring that your personal information remains safe and secure. For more information, please see the eYs3D Terms of Use.
15. Our Security Technologies
This eYs3D web site uses industry-standard Secure Socket Layer (SSL) encryption to protect the order information you send to us over the internet. In addition, we also make use of secure servers, digital certificates and online authentication techniques, all of which supplement the high levels of security that are built into the ordering processes of this web site. For more information, please see the eYs3D Terms of Use.
16. Purpose of Collecting Personal Information
Any personal data that you provide is used in accordance with eYs3D's Privacy Notice, for instance in order to ship product to you or others, or to deliver information to you. eYs3D Microelectronics., Co. will not share your information with other companies, without your permission.
These Terms of Use constitute the entire agreement between you and eYs3D. Each user may be subject to additional terms and conditions that may apply when that user uses affiliate services, third party content or third party software. The Terms of Use and the relationship between you and eYs3D shall be governed by the laws of Taiwan without regard to its conflict of law provisions and each party shall submit to the personal and exclusive jurisdiction of the courts located in Taiwan. If any provision of these Terms of Use is found by a court of competent jurisdiction to be invalid, the parties nevertheless agree that the court should endeavor to give effect to the parties' intentions as reflected in the provision, and the other provisions of the Terms remain in full force and effect.
No rights are conferred to third parties in any order you place on this website unless expressly stated.
​
eYs3D's Terms of Use, Trademarks policy, Privacy Notice and Cookies notice accessible via this website are incorporated by reference. They will prevail in case there is any conflicts or inconsistency with those Terms of Use.
eCaptureCamera.com Store Policies version Oct. 15th, 2021.